This post is guest-written by Shawna Sopp, Marketing Director at The Help Group
In a classroom in Sherman Oaks, a small group of students gather to learn Processing, a beginner programming language. All semester this group has been learning about 2D objects starting with squares and circles and moving up to simple 2D games. Today they start working in 3D.  The teacher gives them simple instruction on how to create a cube.
Quickly these students have edited their code to create multiple static cubes or have their cube following cursor movements. Some are hard at work changing the color of their cube while others are focused on shading.
"This is radical," one student exclaims as she gets the shading just right. The teacher asked her to share the code with the class. Excitedly, she stood up and walked the rest of her peers through the code that created various spotlights and colors on her cube.
You would never guess that these students have autism, anxiety-related disorders, and other learning differences.  Village Glen High School focuses on the strengths of their students, guiding them towards STEM subjects – Science, Technology, Engineering, and Mathematics.
Students in this class are taught fundamentals of programming and given the freedom to play with their knowledge – and they enthusiastically do so. Each is self-driven to do something unique and more complicated than their peers. This friendly competition resulted in some amazing displays.
The student in front of me was busy creating art with her program. She had made the cube flash random colors and used it to draw on the background of her sketchbook. Another student excitedly opened an old 2D game file that he had built in the last project and updated it with some of the 3D code. "This is going to be great!"
Though not all of these students will go on to computer science careers, the focus, visual discrimination, quick research, and desire to innovate will last these kids a lifetime.
About the author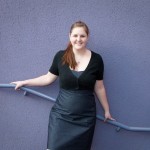 Shawna Sopp is the Marketing Director, Programs for The Help Group.  Shawna began her career working one-on-one with young children on the autism spectrum. Though she left coaching to go into nonprofit, these experiences stay with her. Shawna started at Autism Speaks in 2007 in Community Development, later heading the Field Communications department. Shawna started with The Help Group in August, 2014.